Ford Land Leadership Team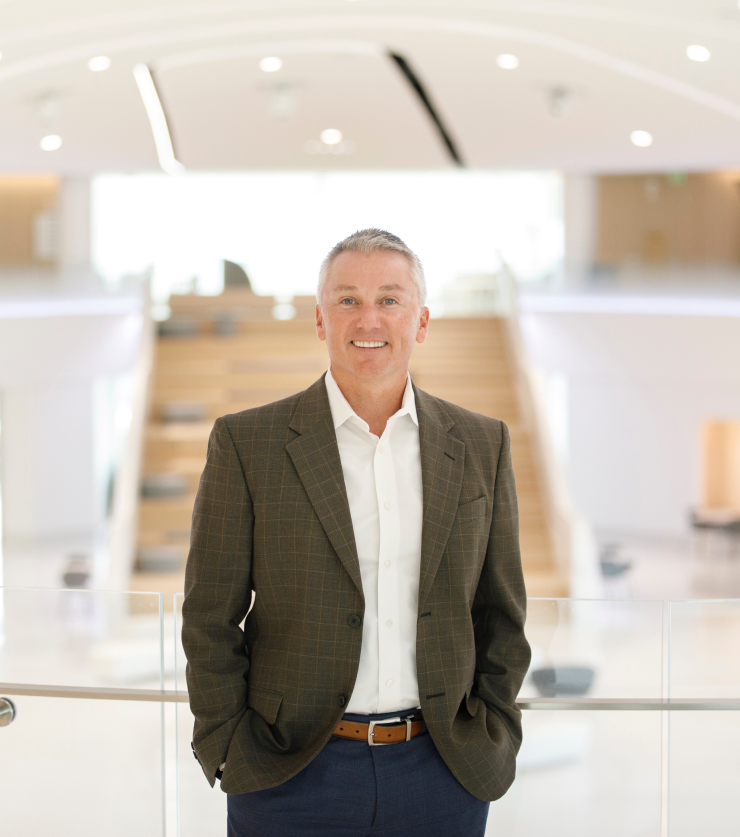 Welcome to Ford Land!
Since 1970, Ford Land has been the steward of the Ford Motor Co. global portfolio and the architect of its built environment.
Based in Dearborn, Mich., where Ford revolutionized the motor vehicle more than a century ago, our team oversees the facilities that are critical to pioneering today's mobility solutions and works every day to create a great experience for all employees, partners, and clients across the globe.
Just as Ford continues to pioneer the future of mobility, we are constantly evolving our approach to the built environment and the experience it provides to reflect the very latest in thinking behind workplace design, portfolio optimization, sustainable operations, and facilities management.
"We are innovators as much as we are doers, and we are masters at both."
– Jim Dobleske
Jim Dobleske
Chairman & Chief Executive Officer
Jim Dobleske
Chairman & Chief Executive Officer
In this appointed leadership role of Ford Land, the real estate of Ford Motor Company, Jim Dobleske is responsible for Ford's entire global real estate portfolio. This includes manufacturing, research and development, and office properties.
As Chair and CEO, Jim oversees real estate, engineering and construction, energy and sustainability, global design, facility management services and workplace experience for Ford Land. Under his leadership, the Ford Land team is driven to deliver and sustain best-in-class real estate, workplace experiences and facilities globally.
Prior to returning to Ford, he was the Global President of Project Management for CBRE where he was responsible for driving the company's growth strategy for Project Management and working with a diverse team to help deliver exceptional outcomes for clients.
Before CBRE, Jim worked for JLL for 17 years where he held positions of increasing responsibility including serving as Global Head of Enterprise Sales for JLL's Corporate Solutions business, International Director of Project and Development Services, with oversight of project management strategy and delivery.
Earlier in his storied career, Jim worked at Ford Motor Company for 11 years in a number of roles, including project management and strategic planning, laying the foundation for his eventual return to lead Ford Land.
Jim holds a Bachelor of Finance from Grand Valley State University, and a Master of Business Administration with a concentration in finance and corporate real estate from the University of North Texas.
George Andraos
Sustainable Energy and Innovation Director 
George Andraos
Sustainable Energy and Innovation Director
George leads Sustainable Energy and Innovation at Ford Land. His responsibilities include the development of a multi-year roadmap to achieve carbon neutral electricity for all facilities globally by 2035. He is also responsible for delivering integrated building management systems incorporating IoT technologies, efficient lighting, and converged
building networks.
George brings a wealth of knowledge to this role as he has been leading energy supply, efficiency, and infrastructure since 2003. During this time, Ford has received six consecutive Energy Star Awards for Partner of the Year/Sustained Excellence. He also has successfully led the development and implementation of our global Energy Management Operating System that delivered over 35% energy efficiency improvements in the past decade. 
Previous positions include leading the construction of manufacturing facilities in Asia Pacific and South America incorporating multiple sustainable elements such as daylighting, natural ventilation, and energy efficient building and process equipment.
George graduated with a bachelor's degree in engineering from the University of Michigan and a Master of Business Administration degree from Eastern Michigan University.
J
esse Blouin
Global Operations Director
Jesse Blouin
Global Operations Director
Jesse Blouin oversees operational processes, enabling technology and strategic data and insights within Ford Land. His role focuses on providing management and leadership across the organization with operational insight, along with overall governance and innovation that align with the business objectives and strategic vision set forth by the executive team. 
Jesse possesses a wealth of experience in the industry from some of the world's leading corporate real estate organizations. Most recently at CBRE, Jesse served as Senior Managing Director of Global Platform & Technology Operations. Prior to CBRE, Jesse had a nearly decade-long career with JLL in several operations and analytics leadership roles before departing as the Senior Vice President of Global Sales Operation. He has also served as an investment broker at mutual fund pioneer, The Vanguard Group.
Jesse achieved a Master of Business Administration degree from the University of North Carolina at Charlotte as well as a bachelor's degree in Economics and Mathematics from the University of Vermont.
Eric Boehm
VP & Finance Director
Eric Boehm
VP & Finance Director
Eric oversees financial matters and internal control of
Ford Land. 
He and his Ford Land finance team support our operational partners in executing the industrial and commercial property needs of Ford Motor Company. These include construction, capital updates, transactions and facilities maintenance.
In his 29 years with Ford, Eric has held positions that span three continents, largely within the Treasury Organization. Positions include Director Global Banking, Trading & Insurance; Regional Treasurer Asia Pacific; Director Ford Credit Financial Strategy; Associate Director Pension Asset Management and Advisor to the UK Pension Plan Trustees; Manager of Securitization Funding at FCE Bank plc and Manager of Corporate Business Development.  
Prior to his time in Treasury, Eric held operational positions in Product Development Finance and Manufacturing.  
Eric holds a Master of Business Administration from the Ross School of Business at the University of Michigan (2003) and a Bachelor of Business Administration from Canisius College of Western New York (1992).
Julie
Mendola
Global Portfolio Director
Julie Mendola 
Global Portfolio Director
As Global Portfolio Director for Ford Land, Julie Mendola oversees the execution and delivery of commercial sites and associated work projects, facility management, planning and portfolio optimization across all geographies. Her focus is to create fully integrated real estate solutions for Ford, leveraging best-in-class partners and Ford team members, to deliver collaborative work environments for employees.   
Prior to Ford, Julie was a National Director at Jones Lang LaSalle (JLL) where she built a career creating real estate solutions for global corporate accounts like Ford Motor Company and the Caleres organization. Her teams were responsible for all facets of facility management and maintenance delivery across multi-million square foot portfolios.  
Julie brings to Ford a focus for program creation and innovation. She previously held a role as the Program Director for the JLL General Motors Account and established the organization that delivered janitorial, mobile equipment, maintenance, manufacturing/lean reporting processes, innovation, communication, and culture-based programs across a 50 million square
foot portfolio.  
Julie is a member and volunteer with Girls on The Run, which focuses on health and confidence for youth. She is a Six Sigma Green Belt and holds a Bachelor of Arts from the University of North Texas.
Andy Norman
Global Real Estate Director
Andy Norman
Global Real Estate Director
Andy Norman oversees global real estate transactions for Ford Land, including the divestments, acquisitions, and the leasing of property by Ford and from Ford by 3rd party tenants.  
He coordinates a team of transaction managers, advisors, and brokers who execute real estate strategies to align with the needs of the business, and to help ensure the portfolio is right-sized, cost-efficient, and flexible for the future.     
Andy possesses decades of experience as a real estate advisor, broker, and development manager, both in the private sector with Global Commercial Real Estate Services (CBRE) and U.S. Equities Realty, and in the public sector as head of economic development for the City of Chicago. He brings this broad-based experience to Ford Land to integrate the multiple real estate disciplines necessary to successfully implement transactions, explore creative transaction structures and support the company's evolving occupancy needs. 
Andy earned a Master of Urban Planning and Policy, and a Bachelor of economics, both from the University of Illinois. 
Janet O'Connell
Experience Director
Janet O'Connell 
Experience Director
In her position as Experience Director for Ford Land, Janet O'Connell is responsible for delivering the Company's experience strategy encompassing all aspects of the on-site hospitality experience. She leads the concierge, property management, meeting and events planning, food and beverage, landscaping, and shuttle service teams, ensuring the employee and visitor experience is consistent across
the globe.   
Before stepping into this role, Janet excelled in finance, holding budget and analyst positions, overseeing the food program for all U.S. locations and as a buyer for corporate food services where she negotiated contracts and necessary subsidy reductions. Janet's vast experience includes property management – for over 13 years, she managed the 1 million square foot Ford World Headquarters building, handling everything from facility management to large scale
corporate events.  
Paying it forward, Janet mentors next generation managers and champions many of the Women in Ford Land initiatives including chairing a Ford Land Women's Circle group.  She also is a liaison to the communities surrounding Ford Land buildings often interacting with tenants, police and fire and civic organizations. 
Janet holds a Bachelor and Master of business from Central Michigan University.  
Gabrielle Poshadlo
Communications Director
Gabrielle Poshadlo
Communications Director
Gabrielle Poshadlo is Ford Land's chief storyteller.  
She oversees all communications functions for Ford Land as it designs, builds, and operates the built environment where tomorrow's mobility solutions are born.  
A veteran in the commercial real estate communications space, Gabrielle has spent much of her career as VP, Communications for Bedrock, Detroit's leading commercial real estate developer. There she made some of the most significant business and real estate news Detroit has seen
in decades.  
Gabrielle holds degrees in journalism and Spanish from Butler University, and lends her expertise to several organizational committees, including the Albert Kahn Legacy Foundation and the Detroit Riverfront Conservancy. 
Larry Quarshie
Ford Blue Manufacturing Director
Larry Quarshie
Ford Blue Manufacturing Director
Larry Quarshie is responsible for ensuring Ford Blue facilities throughout North America meet all manufacturing requirements. He is responsible for leading the launch of Integrated Facilities Management in North America and supporting the launch in Europe.  
Domestically, Larry has played a vital part in managing facility-related needs at the Rouge Complex, including the expansion of the Rouge Electric Vehicle Center, home to the highly successful, all-electric, Ford F-150® Lightning® pickup truck.  
Prior to his current role, which he took over in November 2021, Larry's entire 28-year tenure with Ford Motor Company has been in Powertrain Operations, including six years as the Windsor Site Launch Manager – responsible for all powertrain launches on the Windsor, Ontario, Canada Site. In 2007, he relocated to India to develop and launch Ford's Powertrain footprint in India, helping launch three engine plants
over 10 years.  
Larry attended University of Windsor where he earned Bachelor of Electrical Engineering and a Bachelor of Commerce in Business Administration. 
Jennifer
Stuzin
Global Business Line Strategy Director  
Jennifer Stuzin
Global Business Line Strategy Director  
Stuzin has a 20-year history with Ford Motor Company, working in strategy development, financial management, organizational development, and multi-site operation leadership, translating strategies into actionable solutions. This wealth of experience – from both here and abroad – makes her perfect for the role of Ford Land's Global Business Line Strategy Director.  
Prior to joining Ford Land in 2015, Jennifer's work at Ford included multiple positions in finance, ranging from product development to treasury. Her unique experience allows her to bring clarity and understanding to effectively manage customer engagements. In particular, she is especially motivated when engaging with stakeholders to develop consensus on diverse challenges.  
Jennifer has demonstrated sophistication as a world-class leader with a proven track record of fostering innovation, organizational growth, and driving employee engagement while steering company culture and vision globally.  
Jennifer earned a Bachelor of Science in business administration and a Bachelor of Arts from The Ohio State University and a Master of Business Administration degree from the Fuqua School of Business at Duke University. 
Kevin
Whipp
Global Director
Kevin Whipp
Global Director
Kevin Whipp oversees the construction, estimating and planning for all Ford Land industrial campus projects globally. In addition, he manages all aspects of global facilities engineering, integrated facilities management, and asset sales. Kevin's vast engineering and construction experience across Asia, Africa, Europe, and North America gives him a valuable global perspective in this critical role.  
Under his watchful eye, and more than 25+ years of service to the company, we have seen our industrial projects set the standard for the world.  
Previously, Kevin was Director of Ford Land – Asia Pacific Region in Shanghai, where he managed construction and delivery of seven manufacturing plants. He also helped develop key facilities and office real estate services for over 10,000 team members, spread across nine countries, to support the Asia Pacific Region.  
During his time with Ford, Kevin has also served as a plant manager in South Africa and held management positions for Ford in the United Kingdom, helping shape his insight into operations worldwide.