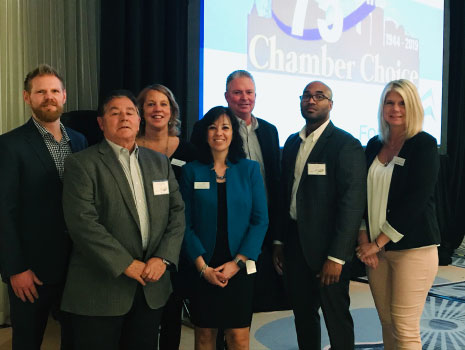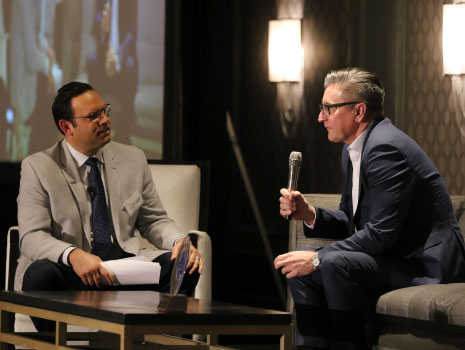 March 22, 2019 – The Dearborn Chamber held its annual Chamber Choice Awards and Expo at the Henry hotel on March 15th. The event hosted over 300 business leaders and celebrated milestone anniversaries of Dearborn and Dearborn Heights businesses. Four honorees were recognized in the following categories: Business Leader of the Year, Business of the Year, Small Business of the Year and Impact of the Year Award.
This year, Ford Land took home the Impact of the Year Award for its Wagner Place development. The Impact Award recognizes an individual or organization who has a significant impact on the Dearborn Area community through volunteer efforts, business initiatives or other efforts. " Ford Land's Wagner Place development demonstrates a commitment to the Dearborn community offering a unique mixed-use urban development in west downtown Dearborn." said Jackie Lovejoy, Dearborn Area Chamber president. "We're thrilled with the design and wonderful additions to our area!"
Ryan Ermanni, Fox 2 News celebrity host conducted candid conversations with all the award winners. Dave Dubensky, chairman and CEO, accepted the award on behalf of Ford Land. "We are excited about the new businesses moving into Wagner Place, sparking excitement and growth in downtown West Dearborn," said Dubensky. "We are committed to the city we call home and proud to play such a vital role in the community, attracting top talent to Ford Motor Company and the Dearborn area."
The Wagner Place development is 150,000 square feet and includes a preservation of the 120-year old historic Wagner Place Hotel. The development brings 600 Ford employees into downtown for work and play. The public green space called, Wagner Park, will allow for daytime and evening place making opportunities through programmed events with partners such as the DDA and the city of Dearborn.