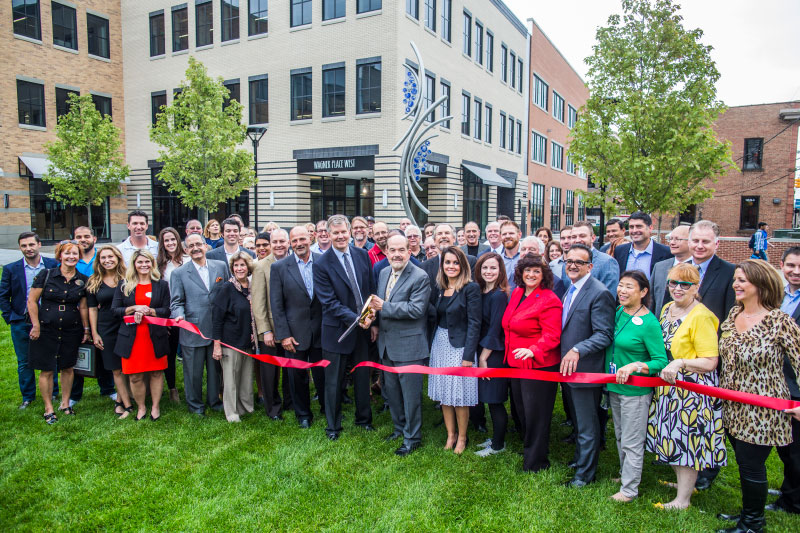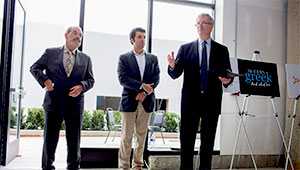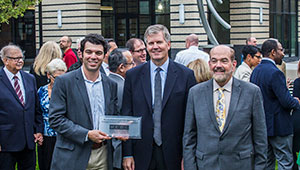 In addition to office space for more than 600 employees and a new public green space, Ford Motor Company is pleased to announce the addition of seven new retail tenants at downtown West Dearborn's Wagner Place

 

The 150,000-square-foot mixed-use development is just the beginning of Ford's transformation into a state-of-the-art campus that will drive innovation and collaboration in every part of its business

 

Ford's investment in West Dearborn development is designed to appeal to a new generation of workers and bring new retail and restaurant options to the local community
 
DEARBORN, Mich., Oct. 11, 2018 – In May 2017, Ford Land broke ground on Wagner Place, a unique urban development that will feature office space for 600 Ford employees, as well as new retail and restaurant options.
Wagner Place development is located on the south side of Michigan Avenue, flanking both the east and west side of Monroe Street in downtown West Dearborn. The mixed-used development will have first floor retail and restaurant space, along with second and third floor office space.
At the end of last month, the Ford Motor Company employees began moving into the second and third floor offices of the east and west buildings. A percentage of the first floor retail and restaurant space was pre-leased to seven tenants. Mid-America Real Estate – Michigan Inc. is excited to be working alongside the Ford Land team on the leasing of first floor space, in order to re-energize downtown West Dearborn. Tenants will include a variety of retail shops, restaurants, services and a micro-brewery.
Jolly Pumpkin Brewery, Orangetheory Fitness, The Great Commoner, Modern Greek, Paradise Briyani Pointe Indian Cuisine, Eleanor's Café Yogurtown and a regional barbeque chain are committed tenants that will occupy the space.
"We are incredibly excited about this opportunity to be a part of Wagner Place," said Tony Grant, spokesperson for Jolly Pumpkin Brewery. "We are proud Michiganders in every way, and have the automotive industry in our DNA, so the marriage of these two great industries can be found in our Michigan breweries every day."
Over the last year, Ford has worked to transform two city blocks of what were largely vacant buildings into this project. The 150,000-square-foot mixed-use development will be certified for Leadership in Energy and Environmental Design (LEED), and will be resource-efficient with water and energy conservation features.
"We are excited about the new business moving into Wagner Place, sparking excitement and growth in downtown West Dearborn," said Dave Dubensky, chairman and CEO, Ford Land. "We are committed to the city we have called home for years, and proud to play such a role in offering even more to the community."
The City of Dearborn was able to secure a three million dollar grant from The Michigan Strategic Fund to construct a 373-space public parking structure on the southwest corner of West Village Drive and Monroe Street – open to both Ford employees and shoppers alike. The structure, along with other public lots and street parking, provides free parking.
"We are excited to bring Orangetheory Fitness to the Dearborn community and help members live healthier, more vibrant lives," said Chad Smith, Orangetheory Fitness Dearborn and Canton franchisee. "We can't wait for Dearborn residents to become part of the Orangetheory family and start seeing results from the science-backed, high-energy workout, regardless of fitness level."
Mikey Nassar, owner of Eleanor's Café Yogurtown, shares Smith's sentiments. "It's so exciting to be a part of a complete transformation and be the frontiers to the new Ford Wagner Place," he said. "We knew we needed to sacrifice to succeed, and we are proud to work with Ford and be a part of the future and change of Dearborn."
In addition to the new retail spaces, Ford will move 600 employees from the data insights and analytics team into the office space, as well as create a public green space for both employee and public use. The public green space is envisioned to activate the area with public events – such as art fairs, farmers market, local festivals, concerts and more.
"The green space will be designed to complement the streetscape, and is something downtown Dearborn doesn't currently have," said Dubensky. "This will bring new life and a new feel to the area and to our employees, encouraging them to go out into the community."
To create a more walkable downtown, the new buildings were strategically pushed back ten feet from the street. The Wagner Place project is part of Ford Motor Company's ten year campus transformation plan.
"This new space represents the evolution of our city," said Dearborn Mayor John B. O'Reilly, Jr. "We're looking forward to new businesses, new customers and a renewed energy in our community."