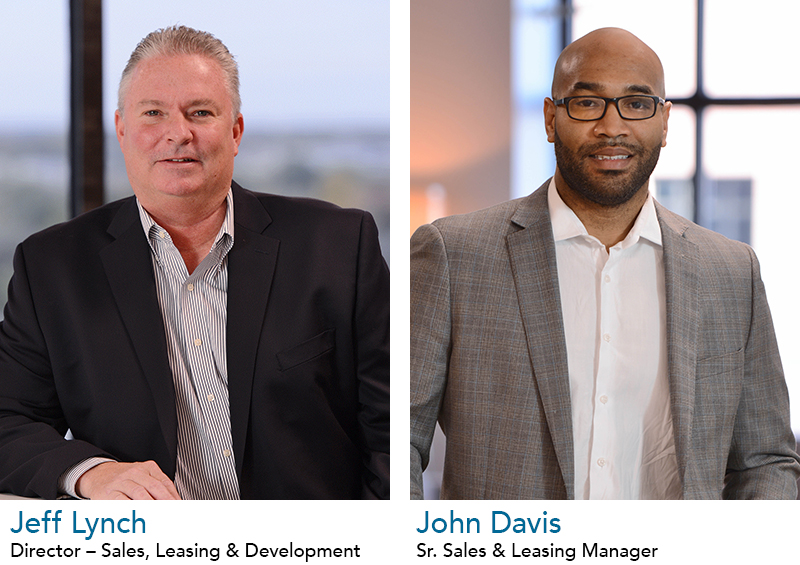 Ford Land is pleased to announce that Jeff Lynch and John Davis recently joined the Sales & Leasing team.
Lynch will lead the team in his new role as Director of Sales, Leasing and Development, in overseeing Ford Land's more than 5 million square feet of office, retail and research and development space. His responsibilities include the acquisition, development, leasing, and disposition of Ford Land's commercial properties in southeast Michigan.
Lynch was a financial analyst with Ford Motor Company for 4 years before joining Ford Land's corporate real estate team in 1999. He has an extensive background in corporate and commercial real estate.
Most recently, he led the Corporate Real Estate and Dealership team for Ford Land supporting the company's global real estate needs for both office and manufacturing sites as well as dealership market representation.  Lynch was instrumental in the acquisition of iconic Michigan Central Station and the additional properties that will make up the Ford Detroit Development.
Lynch represents Ford Land as a partner with the City of Dearborn, the Dearborn Area Chamber and the Downtown Development working to enhance the thriving Dearborn community.  Additionally, he is member of CoreNet Michigan, and an alumna of Wayne State University and the University of Detroit.
John Davis rejoins the team as a Senior Sales & Leasing Manager responsible for new leases and lease renewals for Ford Land's commercial portfolio.  Davis brings a wealth of knowledge to team with an extensive background in real estate services.
Most recently, Davis was a senior transaction negotiator with the General Motors Real Estate Department managing a large manufacturing facility portfolio. John earned his undergraduate and Masters from Wayne State University before earning his law degree from Cleveland State University.  John is a member of CCIM and Crew.