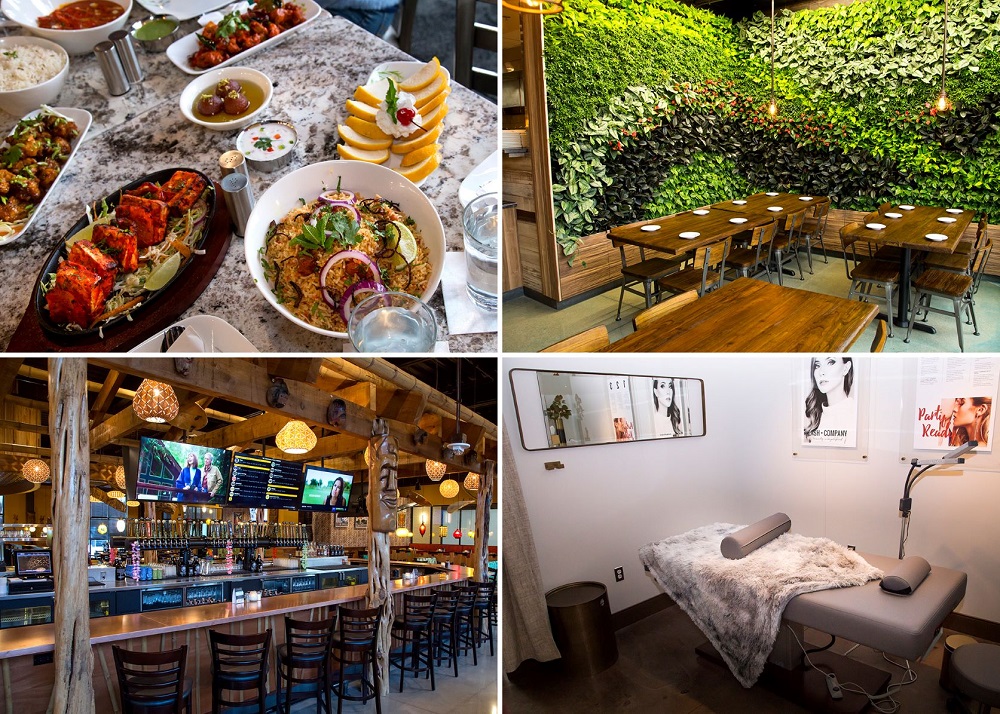 Featured tenants: upper left – Paradise Biryani Pointe, upper right – Modern Greek and Salad Bar, lower left – The Longboard by Jolly Pumpkin, lower right – Lash & Co.
DEARBORN, Mich., Dec. 20, 2019 – Exciting things are happening at Ford Land's Wagner Place—the unique mixed-use urban development located at 21931-22001 Michigan Ave., West Dearborn, MI—as it continues to grow and expand into a true destination spot.
The 150,000-square-foot development already features inspiring office space that houses 600 Ford employees, as well as a variety of retail and restaurant options, including Orangetheory Fitness, Modern Greek, Paradise Biryani Pointe, Lash & Co., The Longboard by Jolly Pumpkin and more. This exciting list of new retail tenants will help energize the community, cementing Wagner Place's value in West Downtown Dearborn.
NEW OPTIONS FOR DINING, SHOPPING AND PAMPERING
For instance, The Longboard by Jolly Pumpkin opened in late November featuring mouthwatering "pacific plates and pours." Covering 8,000 square feet of Wagner Place, this tiki-style restaurant serves up a brand-new take on tropical-inspired dishes that feature a mix of West Coast and Hawaiian cuisine.
Want to accentuate your appearance, and look and feel your best? Visit the now open Lash & Co. It offers a full menu of beauty services beyond eyelash extensions. It's "a chic, welcoming, and comfortable medical spa" that's staffed with a team of service-centric professionals and caters to both male and female clients.
Modern Greek and Salad Bar is bringing the fresh and healthy cuisine of Greece outside the walls of the football stadiums, where their other two popular locations already exist. The vibrant environment—that includes imported Greek finishes and bold colors—is an intimate dining experience. In the mood for Indian food? Head next door to Paradise Biryani Pointe, "home of the best Biryani in the USA." The national franchise, as well as Modern Greek and Salad Bar, are open and ready for business.
EVEN MORE OPTIONS COMING IN THE MONTHS AHEAD
Eleanor's Cafe and Yogurtown will open their doors in early January 2020, offering gourmet coffee, fresh-baked treats, frozen yogurt and gelato, as well as a large selection of grab-and-go beverages, prepared snacks and sundry items. Stop in and sit or grab something sweet to take out, Eleanor's Café and Yogurtown will carry a wide selection of items ready for your enjoyment.
Desert Rose Co. will offer affordable and stylish apparel at their "everyday boutique." With a mission to empower women by helping them dress in a way that is comfortable, yet chic, and a team of stylists ready to help shoppers find the perfect outfit for any occasion, this lifestyle brand will also open in early January 2020.
The Great Commoner, Poke Poke, and Blue Fish also plan to open in early 2020. Stay tuned for more additions to this growing list of tenants.
ABOUT FORD LAND
Ford Land Development Corp. is the real estate arm for Ford Motor Company. For nearly half a century, Ford Land has been a leader in commercial real estate development and management. Ford Land owns and operates an impressive portfolio of commercial office space in Dearborn and Allen Park, Michigan, but their reach and influence extend well beyond Metro Detroit. They're responsible for Ford Motor Company's global workplace experience, developing human-centered workspaces that enable mobility, and exhibit smart design and technology to drive greater productivity.